Evening Training Programs
Spirit Run has evening training for adults, kids, and families to prepare for Spirit Run.
Beginning Monday, January 6th, this eight week program takes place Mondays and Wednesdays at 6:00 p.m. at Newport Harbor High School. It culminates in participating in Spirit Run on March 1, 2020. The modest registration fee includes entry into Spirit Run.
There are training regimens for adults, kids, and families. Download a Flyer about the Evening Training Programs and read on for more details.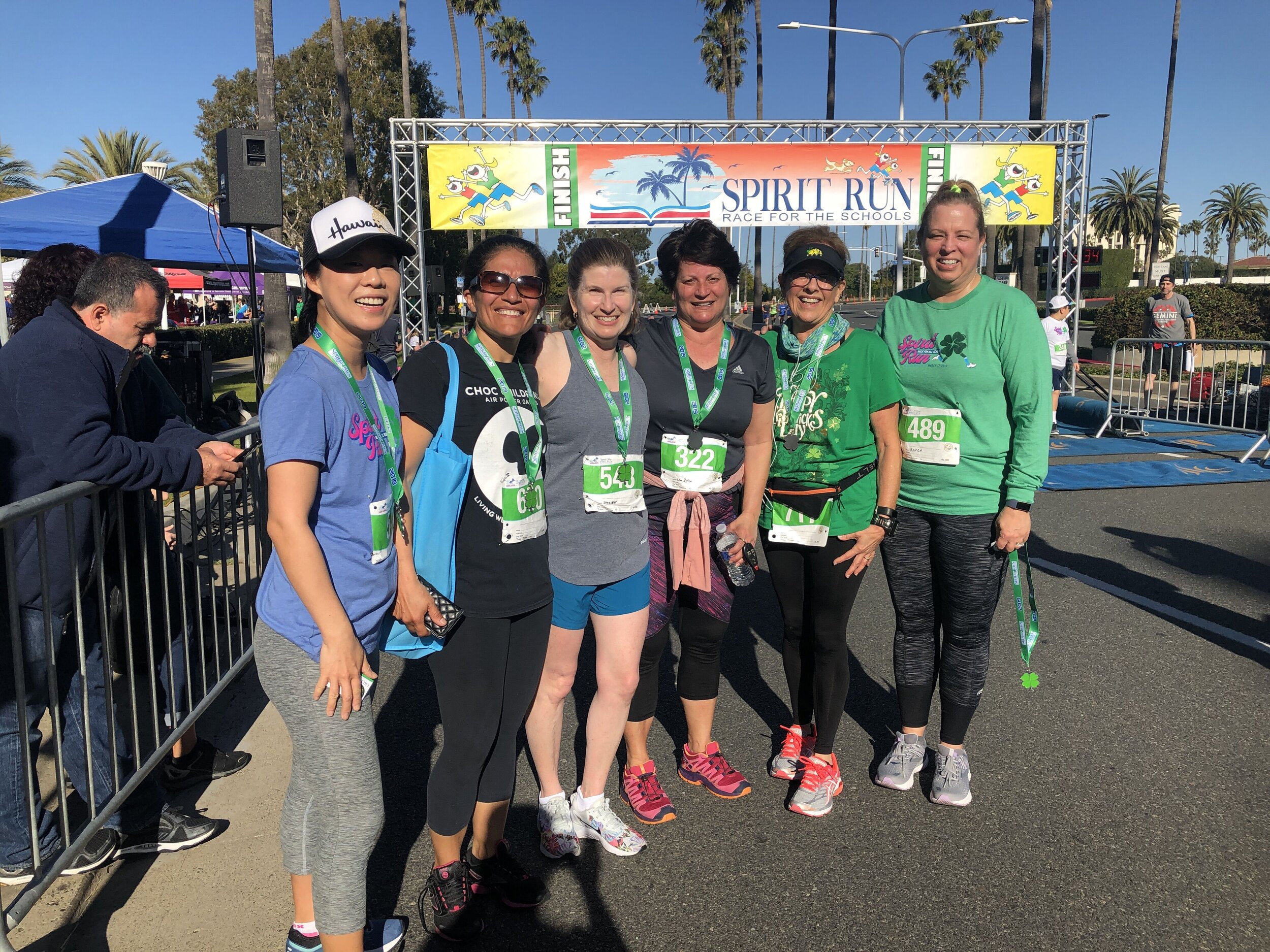 Pictured here are several 2019 "Couch to 5k" participants. They left their couches in January and successfully completed Spirit Run's 5k in March. They became new friends and had fun!
Adults "couch to 5k"
If you are are not a runner or need a tune up, Spirit Run's "Couch to 5k" program is perfect for you.
Our experienced coaches will gently introduce you to getting your body moving by alternating walking and running for small distances. They will slowly build your endurance over eight weeks and prepare you to complete Spirit Run's 5k.
Register now to get off your couch and train for Spirit Run's 5k!
Kids train for mile or youth 5k
Calling all kids age 8-13 (pre high school aged)! Do you love Spirit Run but wish you could run faster this year?
Are you a first time runner who wants to be ready for your Spirit Run race?
Do you want to get a little more fit for soccer or another sport?
Or maybe you just want a little fitness and fun!
Register now to train for Spirit Run's Youth Mile or Youth 5k!
Families train for Mile or 5k walk
"Actions speak louder than words." Parents, show the kids your commitment to a healthy lifestyle by exercising with them! Train together to run or walk Spirit Run's Family Mile or 5k Walk.
If your child prefers to train with other kids, he/she may train for the Youth Mile or Youth 5k while you train to run or walk the Adult Mile or Adult 5k.
Register now to train as a family for Spirit Run!
Spirit Run Evening Program Coaches
2003: U.S.A. Women's Marathon Championships- 3rd American female & 3rd overall female
U.S.A. Women's Marathon Olympic Trials - 4 time qualifier
2003: Pan American Games – Santo Domingo, Dominican Republic - U.S.A. Marathon Team, 2nd American finisher & 10th overall female
2007: Carlsbad 5000(39 and under) - Champion
2007: Boston Marathon -15th Female overall/9th American Women
2010: Boston Marathon - 31st Female overall/15th American Women
Community Involvement -
USATF So Cal - Athletes Advisory Representative
Presentations to Elementary Schools - regarding benefits of athletic involvement for growth and confidence and scholastic challenges and growth leading to competing in Olympic Trials.
2008: Pasadena Inaugural Marathon- gave key note speech to the top race sponsors regarding struggles and triumphs of aiming for the U.S.A. Women's Marathon Olympic team.
2010: "Celebrate Earth Day" - I spoke on behalf of "Athletes for Hope" about importance of trash clean up and recycling.
2010: "USATF DAY" W.T. Cooke Elementary School in Virginia Beach - Spoke with other elite athletes about how sports built confidence and success.
Coaching Experience
Founded and leads Valor Track Club (valortc.com)
Coached 5 years Concordia University's Cross Country/ Track & Field.
Earned Master's in Coaching and Athletics Administration from Concordia University.
Athletic Accomplishments
2 Time All American Cross Country & Track & Field
2 Time Golden State Athletic Conference Champions 1500 & 5000 meters
2 Time NAIA X Country National Team Member
Personal Record in mile - 3:53 & 4:04 on track & road, respectively
Personal Records other - 49.3, 1:51, 3:46, 8:18, 14:04, 24:10, 30:40, 53, & 1:10 in 400 meters, 800 meters, 1500 meters, 3000 meters, 5000 meters, 8000 meters, 10000 meters, 10 mile & half marathon.
To learn more about Coach Jabaz, visit www.valortc.com.
Ashton Garcia has been running for 7 years. During his time at College of the Canyons, he was a member of the 2014 CCCAA State Championship winning Cross Team. Ashton has been competing for the University of California, Irvine Cross Country and Track and Field for 4 years. He is a Big West conference qualifier in both 1500 and 5k.